The Tourism Enhancement Fund last year provided funding of EC$120,000.00 to the Rotary Club of Saint Lucia to facilitate the importation of wheelchairs to the island. This week marked an auspicious occasion as this venture between two private sector entities came to fruition, with the presentation of over 200 wheelchairs to be distributed island wide
The wheelchairs will create greater independence for persons with disabilities by improving their mobility and enhancing their overall quality of life.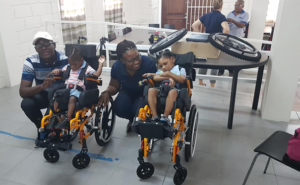 Wheelchair Presentation Continues
The presentation of wheelchairs continued on 11th September 2019 at the Children Development and Guidance Centre (CDGC). This time in addition to a number of regular wheelchairs, 10 specially fitted tilting chairs with added braces were donated.
Ms. Donette Ismael, TEF Programme Manager and Lisle Chase, Matthew Render and Konrad Wagner from Rotary attended the function. This project would not have worked without SLHTA's Tourism Enhancement Fund and its leadership, working with the Ministry of Health and Rotary on the project.