CHTA PRESIDENT SEES GROWTH POTENTIAL FROM GERMAN MARKET, 
NOTES AIRLIFT, INTRA-REGIONAL CONNECTIVITY REMAIN CHALLENGES
BERLIN, Germany (March 16, 2016) – Caribbean Hotel and Tourism Association (CHTA) President Karolin Troubetzkoy sees Germany and other European countries as a region with untapped potential for many Caribbean destinations and is advocating for open skies and ease of travel restrictions to stimulate arrivals.
At the recent ITB Berlin, the world's largest travel trade show, Troubetzkoy applauded the statement by President of the German Travel Association (DRV) Norbert Fiebig who called 2016 "The Year of the Caribbean," referring to the opportunities for growth for the Caribbean from Germany.
"Many of the traditional popular travel destinations for Germans such as Tunisia, Egypt and Turkey have lost some attractiveness to German travelers due to recent events that have taken place there," Troubetzkoy stated. "German travelers are looking for what they perceive to be safe destinations, and the Caribbean ranks very high in that category. The Caribbean is also being considered for 2016 summer vacations, as many other traditional summer destinations such as Spain, are already booked and are priced higher than a Caribbean getaway."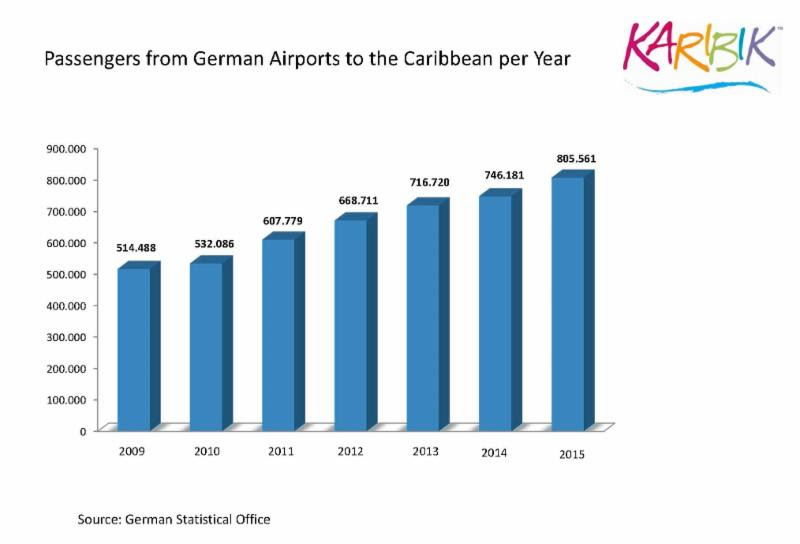 Regionally, Cuba and the Dominican Republic have capitalized on this interest. The German Statistical Office stated "a total of 805,000 passengers departed from German airports for the Caribbean in 2015. Cuba received 236,955 of these passengers, up 25.2% over the previous year. The Dominican Republic's share was 370,161 passengers, signifying an increase of 7.5% over 2014."
For other Caribbean destinations to benefit from additional visitors originating in Germany, Troubetzkoy recommends marketing dollars be spent to showcase the variety of Caribbean product available and promote the region as a viable year-round destination to the German market.
"German travelers are savvy, like to explore, and are interested in the spectrum of available accommodations, from bed and breakfast properties and all-inclusive resorts to high-end boutique hotels. Plus, if better and easier connections between our islands were readily available, German travelers are a good target market to be the ultimate island hoppers."
Troubetzkoy dismisses the notion that the region will not be able to compete with the low package rates offered in Cuba and the Dominican Republic.
"It is not only about price, but also the product. Germans are renowned for their love of travel and we need to remind them of the diverse experiences and destinations offered throughout the Caribbean," she noted.
"According to the latest statistics published by DRV at ITB, 77% of all Germans travel with over 8% traveling long distance. In 2015, Germans spent 71.5 billion Euro on travel and stayed an average 10 days. There is potential for the Caribbean to capture a larger share of the 8% long-haul travelers."
Troubetzkoy says that, apart from the scarcity of marketing campaigns, she is greatly concerned about the airlift deficiencies that affect not only travelers from Germany but other European countries as well.
"While a number of new flights have been added by German carriers to Caribbean destinations for winter 2016-17, these are mostly seasonal services. German tour operators want to be able to offer the Caribbean on year-round basis, but require marketing assistance to build demand to sustain flights throughout the year. And although there is currently good airlift offered from the UK, Germans and travelers from Continental Europe often have difficulty connecting through London, because most would require an overnight stay which is unattractive to travelers."
Troubetzkoy concluded that while she sees the lack of moreinter-regional airlift as a major barrier, she recognizes it as a potential opportunity for Caribbean tourism. CHTA supports in principle the Caribbean Tourism Organization's (CTO) Secretary General Hugh Riley's call for a Caribbean Open Sky policy.
"Imagine what could happen if the governments of the Caribbean were able to agree on a Caribbean Open Sky policy – not unlike the Open Sky agreement that exists between the European Union and the United States. Combine this with an easing up of the current practice of inter-island secondary screening mechanismsand electronic processing and you would create an incredibly attractive proposition for airlines to expand into the region and increase visitor arrivals which ultimately will result in broad economic benefits."
Caribbean Hotel & Tourism Association
The Caribbean Hotel & Tourism Association (CHTA) is a federation of 32 National Hotel Associations, with more than 600 member hotels and over 300 allied members. CHTA is the largest representative of the private sector in the Caribbean hotel and tourism industry. We are the voice of the Caribbean hospitality industry for the development of the region in the highly competitive and sophisticated environment of international tourism. Today, tourism is widely recognized as a pivotal industry in the economy of the region – and CHTA functions as the common denominator for this industry in a region of diverse nationalities, languages and styles, identifying mutual problems and marshaling the resources of the active and allied members to devise solutions. CHTA represents all facets of the hospitality industry with more than 600 member hotels and over 300 allied members.
CHTA, including the events staged by the association, is supported by Strategic Partners AskMe Inc., Clear Channel Airport Division, HVS, Interval International, JetBlue Getaways, MasterCard, OBM International, Tambourine and TravelZoo.