Karolin Troubetzkoy is the Executive Director, Marketing and Operations of Anse Chastanet and Jade Mountain Resorts in Soufriere, Saint Lucia. She has been spearheading the marketing and day to day operations of these award winning resorts since 1986, with Jade Mountain Resort added in 2004, when the pre-opening marketing phase began.
From 1985 – 1986, Karolin Troubetzkoy was a consultant for the Organization of American States and in that capacity, produced tourism feasibility studies for the tourism marketing of Pigeon Island, the Maria Islands, Sulphur Springs and also a marketing brief for the St.Lucia Tourist Board.
From March 2010 to January 2016, she served as the President of the Saint Lucia Hotel and Tourism Association (SLHTA). She personally oversaw the development of a broad social media platform for the SLHTA and was instrumental in the successful implementation of a hotel booking engine for SLHTA and the relaunch of La Belle Helene Magazine.
In 2013, Mrs Troubetzkoy was able to gain support from the hotel sector to found the Saint Lucia Tourism Enhancement Fund (a voluntary contribution system of US $2 per visitor per room night), which enjoys a high compliance rate among the Saint Lucia hotels. Mrs Troubetzkoy served as chairperson of the Tourism Enhancement Fund for several years, most recently from March 2016 to December 2018 and remains actively involved to this day.
Mrs Troubetzkoy served as a Director of the Saint Lucia Tourist Board and as the Chairperson of the Tourist Board Marketing Committee for many years. She has been an active member of the marketing committees of the Saint Lucia Tourist Board for the past 20 years and has been a Saint Lucia Tourist board member from 2007-2009 and again from 2010-2016.
She has been the 1st Vice President of the Caribbean Hotel and Tourism Association (CHTA) from 2014-2016. Mrs Troubetzkoy chaired the CHTA Advocacy Committee for the region from 2012-2014. In 2014, Mrs Troubetzkoy re- energized CAST (Caribbean Alliance of Sustainable Tourism) and served first as Chairperson, then as deputy chair of this CHTA initiative.
Mrs Troubetzkoy was appointed President of the Caribbean Hotel and Tourism Association (CHTA) in January 2016, for the term 2016-2018, with her presidency coming to an end in June 2018 and subsequently served as CHTA's Immediate Past President until Oct 2020. Mrs Troubetzkoy was only the second woman to serve as President in CHTA's 50+ year history.
During her tenure as Vice President and President of the CHTA, several hurricanes affected the Caribbean. Mrs Troubetzkoy initiated and was instrumental in the fund raising efforts of the CHTA on several occasions: In 2015, over US 35.000 were raised for Dominica after Hurricane Erica, which allowed a school to be rebuilt. After Hurricane Matthew in 2016, over US 55.000 were raised for Haiti and The Bahamas.
In September 2017, Hurricanes Irma and Maria struck several Caribbean Islands. In the aftermath of these two hurricanes, there was a lack of communication available to both potential visitors to the region and the travel and tourism trade community. On her own initiative and making use of her own funds and available manpower, she created a website called Caribbean Travel Update within a 48 hour period and personally maintained and updated this website for a period of over 7 months, to ensure that accurate and up to date news could reach visitors and travel professionals alike, with the goal to correct the misperception that the entire Caribbean had been affected by the hurricanes.
She also brought to life the One Caribbean Family initiative- encouraging tourism businesses in the Caribbean not affected by the hurricanes to donate a small percentage of their new bookings ( often displaced bookings from affected islands) to the initiative which eventually raised over 1/4 Million US Dollars directly, via Tourism Cares, the organization chosen by CHTA to handle and disburse the funds. In addition, the One Caribbean Family initiative encouraged and stimulated other organizations with business links to the region to play their own role in assisting the islands, raising easily another 1 Million Dollars.
On a personal level, Mrs Troubetzkoy collaborated with GIZ and the German Embassy to bring relief to the island of Dominica after hurricane Maria. Making her personal time and also personal funds available in addition to funds from the German Embassy, several boat loads of relief items could be sent to Dominica.
As President of the Caribbean Hotel and Tourism Association, she also served as the co-chair of CTDC (Caribbean Tourism Development Company). The purpose of this private – public tourism sector collaboration was to promote Caribbean tourism more effectively and sustainably by showcasing the region's rich diversity and promoting better and increased airlift, enhancing product development and product offerings through skills training and linkages to arts and crafts, music, cuisine and culture. Regrettably, this private -public sector initiative, whilst critical to the future success of Caribbean tourism has yet to reach its full potential.
When her CHTA Presidency came to an end, Mrs Troubetzkoy agreed to take on the role of Chairperson of the Caribbean Hotel and Tourism Association Education Foundation and in this position continues fundraising in the industry to make available scholarships and training opportunities.
In July 2018, she was re-elected as President of the Saint Lucia Hotel and Tourism Association (SLHTA) and served until April 2021.
In Jan 2019, she was appointed Envoy to the Caribbean Challenge Initiative to bring awareness and build up resilience of the marine and coastal resources in the Caribbean. In July 2020, she accepted the Chairmanship of the Saint Lucia National Conservation Fund and in this capacity, has joined the board of the Caribbean Biodiversity Fund. Fund. In April 2022, she was appointed to the Board of Directors of GLISPA ( Global Island Partnership), a voluntary and inclusive partnership of island champions – countries and organizations – who inspire and support each other to take action and produce results for island communities.
She is the Honorary Consul of the Federal Republic of Germany in Saint Lucia and is a citizen of Saint Lucia. On May 24, 2019 the Federal Republic of Germany bestowed on Karolin the Order of Merit to acknowledge her work as Honorary Consul and her volunteer leadership in Saint Lucia and the Caribbean to advocate for operating in a sustainable environment, building resilience and mitigating effects of climate change.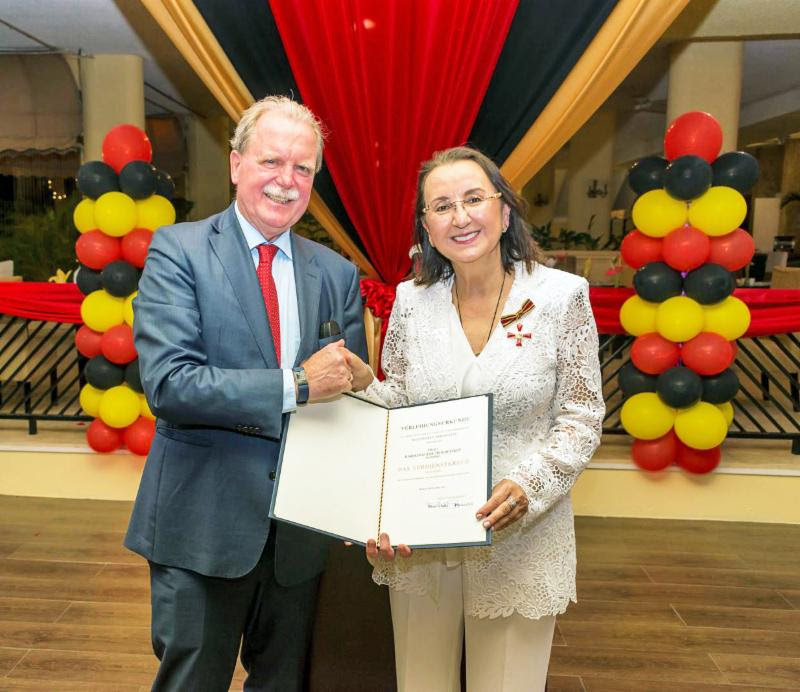 In December 2002, the St Lucia Hotel and Tourism Association bestowed on Mrs Troubetzkoy the coveted Crystal Award for services to the hotel industry. She was the recipient of the Saint Lucia Hotelier of the Year Award in 2006. In 2012, Mrs Troubetzkoy received the prestigious Caribbean Hotelier of the Year Award from the Caribbean Hotel and Tourism Association, as one of only a handful of female recipients in the awards' long history.
She holds a degree in business administration with majors in both tourism marketing and hotel and restaurant management from the University of Applied Sciences in Munich. She speaks four languages: German, French, English and Italian.
PHILANTHROPIC WORK
Building on her belief (shared and practiced by her husband since the property beginnings) that as much economic benefit as possible must be be kept in the community, Mrs Troubetzkoy, over the past 30 years, built up a network of seamstresses and craftsmen to hand-make all of Anse Chastanet's furniture, soft furnishings and also table line and bathrobes.
She has worked closely with local craftsmen and artists to develop unique Saint Lucia art and Mrs Troubetzkoy instigated an "Art in the Hotel" program in 1985, long before this became a trend in the hotel industry. Over the past 35 years, local and international artists collaborated in creating the eclectic art collection at Anse Chastanet including local wood carvings and acrylic paintings by famous international artists such as Elvira Bach and Stefan Szczesny.
By inviting international artists to live and work at the resort for up to 4 weeks she was able to foster a dynamic creative exchange between local and international artists. To international artists, the exchange of art against accommodation provided new inspiration by virtue of the scenic tropical environment. Together with her husband Nick, the Troubetzkoys have sponsored local charities and sports events, too numerous to be mentioned.
In 1989, Karolin Troubetzkoy recognized the desire by guests to be able to assist in her local charity work and created a guest charity account. Since then, these funds have enabled her to expand her charitable work further especially in the region of child education and care for.
In the early 90's, they started an "adopt a farmer" program, and continue to the extent possible to purchase as much produce locally as possible. In addition, the Troubetzkoys also run an organic farm and make their own chocolate under the label Emerald Estate.
As Honorary Consul of the Federal Republic of Germany, Mrs Troubetzkoy secured funding for a new school cantina and kitchen for the Bouton School near Soufriere and recently funded and opened a carpentry facility for the Soufriere Comprehensive School. Another project was the rehabilitation of the Library in the Banse La Grace School. She is currently involved in a project to revive handicrafts in the Soufriere region.
Mrs Troubetzkoy is the Patron of the Saint Lucia Cerebral Palsy Foundation.