Anse Chastanet
Owners Nick and Karolin Troubetzkoy believe passionately in nature. They created a hotel that makes the foliage and the flowers, the perfumes and the peaks, the sea and the bird song an integral part of your vacation experience. The estate encompasses 600 lush tropical acres bordering two soft sand beaches. Not only do you get a World Heritage Site anchored by the twin peaks on land, the resort's two crystal-clear bays are part of a designated marine reserve protecting miles of colorful coral reefs teeming with tropical fish.
With such a unique setting as his canvas, Nick Troubetzkoy was inspired to design a one-of-a-kind resort. He was committed to an environmentally conscious development before "green" became fashionable.
A dozen rooms are tucked in behind the coconut palms that line the beach and the remainder tiptoe up a flower decked hillside. To make the most of the panoramic views and the refreshing tradewinds octagonal whitewashed cottages come with wraparound flower draped balconies and louvered windows.
Extra-large deluxe and premium suites underscore the visionary, innovative, sometimes whimsical side of Nick Troubetzkoy: in one suite, the balcony is built around a full-grown red gommier tree; in another a flamboyant tree drapes its red blossoms around the balcony. Some have their 4th wall open entirely to the vistas, yet are completely private.
Anse Chastanet's ever growing art collection provides a visual feast of its own. There are impressive wooden sculptures and plaques, earthy burlap compositions, painted "sky ceilings" and vibrant acrylic paintings invoking memories of Matisse and Picasso.
And while the sensuous seclusion of the rooms provides some guests with the perfect excuse for lolling away the day on the balcony, others head out to partake in the many activities on offer; yoga, snorkeling, scuba diving, tennis, sunset sailing, sea kayaking or jungle biking, hiking and bird-watching among the ruins of an 18th century colonial plantation.
The less actively inclined simply do nothing, lie on the beach or get pampered in the resort's spa, Kai Belté. There is a casual beachside bar and restaurant; on the hillside, a panoramic hillside lounge and two treehouses provide the romantic setting for candlelit dinners, with musical backdrops by local entertainers. Tranquility, Romance and Adventure at Anse Chastanet.
ANSE CHASTANET is St. Lucia's only resort property with the iconic view of both the Piti and Gros Piton mountains floating upon the Caribbean Sea. The location of the property is unsurpassed, a private estate of 600 lush tropical acres bordering two soft-sand Caribbean beaches with pristine coral reefs just offshore. The resort property includes the historical plantation of Anse Mamin and Emerald Estate where the resort grows its own organic produce.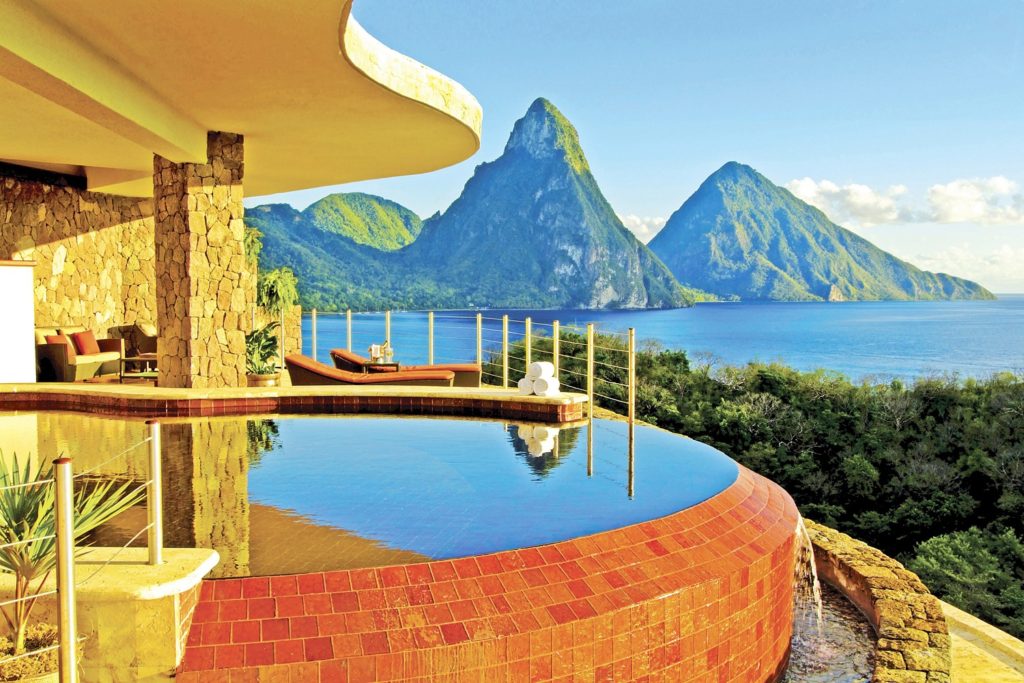 Jade Mountain
Rising majestically above the 600 acre beach front resort of Anse Chastanet, Jade Mountain Resort on St. Lucia's south-western Caribbean coastline is a cornucopia of organic architecture celebrating St. Lucia's stunning scenic beauty.
Nick and Karolin have expanded upon the philosophy of building in harmony with Caribbean nature in his creation of Jade Mountain St. Lucia. The bold architectural design – individual bridges leading to exceptional infinity pool sanctuaries and rugged stoned-faced columns reaching towards the sky – makes Jade Mountain St. Lucia one of the Caribbean's most mesmerizing resort experiences.
Expect grand sweeping spaces where bedroom, living area and an extravagant private infinity pool glide into one another to form extraordinary platforms floating out into nature. With the fourth wall entirely absent, Jade Mountain's sanctuaries are stage-like settings from which to embrace the full glory of St. Lucia's Pitons World Heritage Site, and of course, the eternal Caribbean Sea.
Wrapped around an infinity pool with a dazzling kaleidoscope of colors, the Jade Mountain Club celebrates James Beard Award winner Chef Allen Susser's "Jade Cuisine." Hovering in space above the Jade Mountain Club is the Celestial Terrace, perfect for sunset cocktails or star-gazing.
A wide range of spa services can be enjoyed in the privacy of the Jade Mountain sanctuaries or at Kai en Ciel, Jade Mountain's boutique spa and fitness studio. The resort major domos and a dedicated resort team ensure outstanding service around the clock.
Enjoy the exclusivity and privacy of Jade Mountain with all of sister resort Anse Chastanet's restaurants, bars, boutiques, art gallery, spa, scuba, bike and watersports facilities as well as 2 soft sand beaches available and easily accessible to Jade Mountain guests by foot or resort shuttle at all times.